Good evening from the rather chilly England.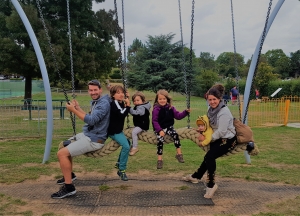 So how does one start ones first ever update? How do I re-cap 6 -8 weeks? How can we share the miracles and struggles in our life/ journey, without writing forever? Well, to be honest, I don't know. In actual fact, I wanted to write my first blog post 2 weeks before we left Germany. I wanted to show you the chaos we were in and the excitement we had parallel to that, I wanted to share about the emotional struggles we had, especially the Kids. At the same time, I wanted to share how "carried" we felt by God and our friends, I wanted to share about the amazing farewell we had and how we got blessed over and above with all the finances that were still missing for our move. But right now I think this will be too much to process for you all. I think this post will become overwhelming, it will lose its essence. I will break up our story over the next month. For now, we will share a little recap of our first week in just a few photos. Lots of the other pics of the move and ferry are on different devices so be patient with us 🙂
It starts with the last picture of our baby at home in Germany (pic taken by Thomas Jahn), followed by a snippet of our journey to the ferry and our first morning waking up in a whole new world.Then some first impressions and photos of us as a family while "Opa Peter" was still in Harpenden.Enjoy 🙂
It's been everything else but easy, we have faced many challenges. Leaving "HOME" and arriving in a place that you have never been into rooms, not a house with two bathrooms and a garden or an apartment that one chooses to rent. And then having to move again into other rooms ( newly renovated rooms), has been a blessing and a trail at the same time. We knew that it's going to be the life of missionaries that we will live for this time, a life of wandering nomads 🙂
We knew it won't be easy but at the same time we knew it would make us grow.
How can one be happy with so little when one had everything.

But did we have everything and what is everything ? ( These thoughts are for another Blogpost)…
To be honest it is a daily challenge. I/ we prepared ourselves for months, watching videos and following blogs of traveling families and minimalism, but when you reduce and reduce, sell, give away and reduce again you realize how little you actually need. Buuuut it's still difficult no matter how much you prepare. It is still challenging, one comes across so many sentimental things and realizes that some things that you thought you could get rid of, you actually can't.
As we were packing all of our clothes and linen into boxes to be stored away, I unpacked some linen that my Grandmother had freshly washed and folded before she died. I had it packed neatly into our closet and that's where it stayed for 2 years. As I was about to pack this stack of linen into a box not knowing when I will see it agai. It really hit me emotionally, took it out of the box and held it to my face. The sent still smelled after my "Oma", my Gran.How many times have I moved in a life time, how has it been being a missionary kid…How many times have I had to say goodbye? I cried and cried because my childhood suddenly flashed in front of me. I remembered sleeping in this exact brushed cotton bedding as a child on the German countryside where I felt home. I had such a lump in my throat at the thought that this linen will not smell like this and won't smell like her washing powder when we return in 2-3 years time. This was hard…this was down to the core of me. I folded it and smelt it one last time,tears running down my face, feeling like a child yet with the weight of responsibility of a Mother. How can I do it best for my children, how can I help them transition best…
Our baby cried waking up from his midday nap and ripped me out of my emotional state. I had to function, we had to function. The last days were so blessed with so many friends and family visiting us, with so much love and even financial support. We couldn't even mention the struggle and did not want to highlight it.
Because there were so many blessings and these blessings outweighed the struggle…
Currently, we have 16 boxes of valuables stored at my Dad in Germany, it's only 16 boxes which we are pretty amazed about for a family of 6!
To our journey:
We rented a 9 seater (which was a miracle story in itself), thinking that all that we need to take along to England would fit…well it did not. We had to re-pack the van 1.5 hrs before we left …then we ended leaving stuff that we actually needed. We had a 3 hr wait in the blistering summer heat for the ferry in Callais, we had crying Kids and a very patient Grandad (my dad), to help us. We had a daughter with an allergic reaction to mosquito bites with swollen eyes, which I realized on the ferry to England. The trip from the ferry to the base was a real mental stretch since we were all so tired…
The swelling of our daughters' eyes got so bad that they were almost swollen closed when we arrived in Harpenden. When we arrived at the YWAM Harpenden Base we were welcomed really beautifully, we felt so welcomed and saw so much heart in how the little rooms were prepared for us. A small toy box for the kids, yummy snacks and a sweet basket, fresh flowers and a welcome card. These are things we did not expect and this is where it started for us to recognize the beauty and love on our journey.

Things may not have worked as we wished, we were very "tried" in so many things and situations in the past few weeks. Usually, little things, and these little things are the things that are the difficult ones. We had to and still have to realize that living in a community and also a training faculty/campus/ missions base, is a whole different world. Many nations with many different cultures and upbringings come together, what is normal or logical for you is a totally unlogical or even offensive for someone else. Also all of a sudden there are rules, rules that we have to adapt to, we have to learn to also close our eyes to many things that are not our business. Things that could be changed or even repaired…we have to realize that everyone has their task and us coming between with our knowledge may make others who have been here for a long time feel inadequate. But at the same time we want to be sensitive enough and of help to make a change in this short time that we are here. It is a real forming and shaping time, it's a time of not only thinking like a German but being a lot more polite, if I can say it that way * I'm smiling*…we are challenged. But we pray and we humble ourselves, we seek God and we know that this is where he wants us.
Dale has been helping as a "Mission Builder" in property maintenance every day from 9-4pm, I've mainly been helping the Kids and us settle in. I organized a play and a back to school event for the base Kids and parents. With this, I realized how much I can actually do being a mom of four. I realized that I can take on projects if I get enough help, and I can make a difference even with little kids. I shared these events on our Instagram stories, so keep watching out on our Facebook and IG.
Fall/autumn is approaching and the air is getting cooler. It's Sunday evening after 10pm UK time, all of our four Kiddos are finally asleep. We have had an action-packed weekend with a beautiful ywam Wedding yesterday, followed by funfair and an evening out. Today we spent the day with Dales family who lives within the circumference of an hr. Family is such a gift and we are so blessed to be close to Dale's side of the family after always having my family so close in Germany I see how Dale must have felt not being close to his family for the past 10 years.
We took the Kids to a place called Mead open Farm, they had so much fun…fed baby goats and sheep, went on huge slides and much more.
So here we are, Dale is sitting in the hallway in front of the little Tea-Kitchen, keeping an open ear for our kids in case they wake up. Guests are washing dishes and we just always have to make people aware that the walls are thin and our kids are sleeping. I am in the quiet lounge trying to make sense of writing this post…and so hope our baby is sleeping deep enough to sleep through the cleaning of the plates which I hear from here. Any parents will understand how valuable quiet time it is when kids are asleep :)… so that said, we hope you enjoyed this update. I have to try and plan the week of homeschooling now before passing out!
It's kind of difficult to do this in both German and English, so we urge you to please use google translate for German or any other language until we find a better solution.
If you new, feel free to follow us on Facebook and Instagram, leave us a comment and sign up for our Newsletter. From October we will be writing Newsletters and sending them via E-Mail, additionally to this blog. In our Newsletters, we will give you more insight into our projects, our finances, and our prayer requests.
Closing Note:
Change requires motion, without motion there is no change. Birth requires change, it requires leaving "home', one world and entering into another…Birth is painful, birth is uncomfortable, birth can be the best experience for mother and child and it can be the worst. But knowing that you are carried by something so much greater than you and life itself, regardless to the situation or feelin, is the key.
Why do I write this as a closing note? Well, we have four children and we just moved our whole lives let alone country or home, we've stepped out onto the water…and faith alone can hold us now. This is the best comparison I have… The pregnancy is over (months and years of preparation), now the baby has been birthed…and now it means looking after that Newborn.
You have a greater purpose too, you are called and you are loved, you are unique and wonderfully made.You were formed in the darkness of a woumb and now you live on this earth, your life is the biggest gift you have! What are you doing with it ?
Meditate upon this, pray about it… Until next

Melissa with Dale and Kids xxxx